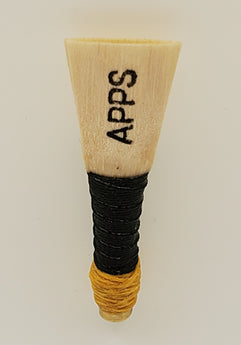 Chris Apps Straight-Cut Reed
$ 20.00
A powerful stable top hand with plenty of volume
The Apps straight-cut chanter reed is constructed with the same attention to detail as the ridge-cut reed and has a folded brass staple. The reed is prepared with state of the art modern machinery and hand finished by Chris Apps. The combination guarantees consistency and quality.
The folded brass staple ensures each reed has a powerful, stable top hand and projects plenty of volume. This staple is also key to our perfect piobaireachd high G. Each reed produces a sound with plenty of depth and harmonics.
We can set strength to exact specification if requested. Use the table of reed strengths as a guide. If your perfect strength is a 24 then you will receive a reed at 24. No need to blow the reed in or adjust it in any way. Plug and play. You can also purchase a gauge here
Softening a straight-cut reed in under one minute - for more info see link below

 **please note that orders may take up to 20 weeks or more to fill depending on the time of year. You can request an ETA when ordering. You may consider creating a separate order for non-reed items so they are not delayed too.