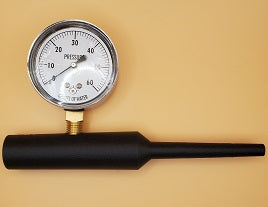 Reed Pressure Gauge
$ 99.00
"I love this Pressure Gauge!!!  I know it is going to solve so many problems for me and streamline my reed selection process. Thanks!!!"
Take control of your reed selection
Retail price is now under $100
Imagine ordering a reed and when it arrives you can pop it in and Hey Wow it's exactly the strength you like. No blowing in time. It can happen!  
The Apps reed pressure gauge lets you measure the strength of your chanter reeds exactly.  Insert the chanter and reed in one end and blow into the other. Blow until the reed sounds its best and take a reading from the gauge. Once you've discovered what strength you are most comfortable with you can use that information to:
Order chanter reeds set to your special strength
Measure all back up reeds and adjust so that they are ready if and when the need arises.
Measure the whole band and improve your sound. Take a measurement of all band pipers and order reeds set for each. You could also have a spare reed ready for each band member. No reeds will be unused. No money will be wasted. Everyone will be happy with their reed. A win, win, win.
The gauge is now 3D printed using carbon fiber.  It is lightweight, durable, and can be produced locally. Best of all it's cheaper to produce which means we can lower the price. 
See Chris using a gauge in this video
 PIPERS WHO PURCHASED REEDS SET TO AN EXACT STRENGTH
"I've been having fun with the pressure gauge. A lady who was used to struggling in the band thought there was something wrong. Another fellow who had always tried to play too strong got to experience decent tone for the first time."

"Just wanted to let you know that the band order has arrived in Ct. safely. Looking forward to passing them out to band members. Tried several from each packet and found that they were all dead on with the meter. Don't know how your do it, but please continue your magic. Looking forward to doing business with you."