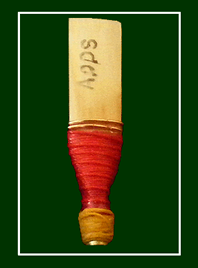 Apps Smallpipe Chanter Reed
$ 60.00
The Apps smallpipe reed is hand crafted to an exacting standard. A vibrant smallpipe reed with a sweet sound. Suitable for the keys of A, Bb, C and D. The smallpipe reed will only work in a genuine smallpipe chanter. Some parlour pipes use a practice chanter rather than a smallpipe chanter so you may need to order an Apps cane practice chanter reed instead.  If you are unsure which type of reed to use feel free to contact us.

As smallpipe designs can vary greatly the Apps smallpipe chanter reed may not suit exactly and some adjustment to the reed may be necessary once it arrives.  You have the option to have a reed made specifically for your chanter. Send your chanter to Chris and he will create reeds to fit it perfectly. The fitting cost is in addition to the cost of the reed.
**please note that orders may take up to 20 weeks to fill depending on the time of year. You can request an ETA when ordering.
WATCH CHRIS PLAY A SELECTION OF TUNES ON HIS SMALLPIPES